HEIKAUS Retail
Stuttgart
Kessler Flagship-Store
— 70 qm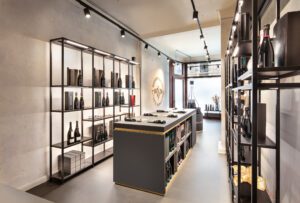 The first flagship store of the Esslingen-based KESSLER brand – Germany's oldest sparkling wine producer – was built at Calwerstrasse 58 in Stuttgart.

The flagship store moved into a listed building – small and charming – consisting of two areas – the KESSLER STORE and the associated KESSLER BAR.

The focus of the space concept was to make the KESSLER brand tangible: Sparkling wine should not only be drunk, but also bought. Various products like glasses and many other merchandising products of the brand are sold in the store. The focus is therefore primarily on the staging of the sparkling wine bottles, which is the main business of the brand. Very important was the adoption of the general Kessler "look and feel", which is reflected in the color scheme of the tones black, anthracite and gold.
DESIGN & PLANNING HEIKAUS ARCHITEKTUR
Next Project